What are Accurate Accounts?
SMA's Accurate Accounts display the aggregated expectations from the most accurate Twitter accounts for individual stocks across different time periods. In the example below, 83% of the most Accurate Accounts for a 1-Day holding period are currently bullish on TTD. 1-Day, 2-Day, 1-Week, and 1-Month holding periods can be specified.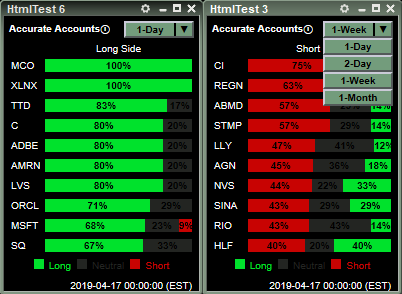 Disclaimer: The information in the market commentaries have been obtained from sources believed to be reliable, but we do not guarantee its accuracy and expressly disclaim all liability. Neither the information nor any opinions expressed therein constitutes a solicitation of the purchase or sale of any futures or options contracts. The information on this site compiled by Social Market Analytics is for general purposes only. All information and data herein is provided as-is. Social Market Analytics assumes no responsibility for any errors or omissions. Social Market Analytics, its affiliates and any third party information and content providers expressly disclaim all liability with respect to the information and data contained herein including without limitation, any liability with respect to the accuracy or completeness of any data. You use the data herein solely at your own risk. All data and information provided herein is not intended for trading purposes or for trading advice.